Checked baggage fees are getting to expensive. What's the best luggage to carry on?
First, the Rules
First, TSA has rules about carry on luggage. Each airline also has its own rules for carry on luggage. You need to be familiar with both. TSA's rules for carry on luggage mean that you cannot bring any liquid or gel in greater amount than 3 ounces (100 mL), and those 3 ounce bottles must fit into one quart size plastic bag. You also cannot have anything sharp, like scissors or knives. If you have a large bottle of lotion, perfume or anything sharp, you have to check you bag — even if it will fit into the overhead bin.
To find out what the size limitations are for each airline, check with the airline directly. However, the general rule is that a bag cannot exceed 45 linear inches, according to the FAA. That means that if you add up the length, height and width, the total inches cannot be more than 45. Make sense?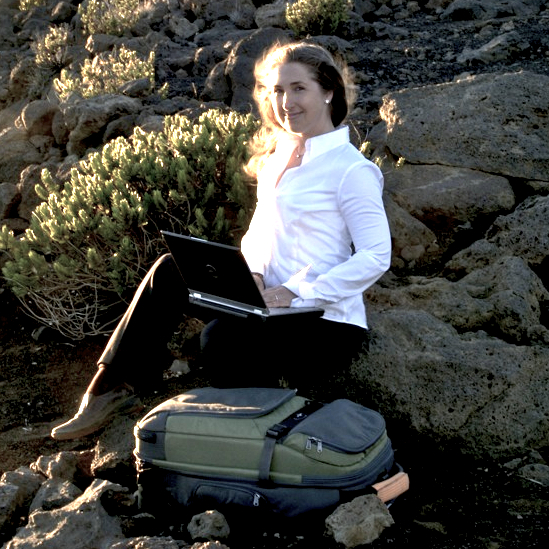 When you carry on, you save money and keep your stuff with you, no chance of it getting lost. I am always at "home" on the road with my Eagle Creek Tarmac 22″ luggage.
Next the Luggage Makers
Let's narrow the field down to companies that really stand behind their luggage. Three brands of luggage offer the best warranty service, including guarantees against damage done by the airlines: Eagle Creek, Patagonia and Tumi. I have successfully used all three.
Other companies, such as TravelPro, Hartmann, Victorinox, Swiss Army and  Samsonite, sell solid luggage sets with good warranties. I have traveled with all of these brands as well. However, these don't guarantee against damage done to your luggage by the airline. Only Eagle Creek and Patagonia offer this type of warranty. And let's face facts, most of wear and tear on luggage comes from the airlines' luggage handlers and sorters.
(Note, I do not own stock in any of these companies or stand to gain financially in any way from recommending them.)
Construction
The most important consideration when you invest in good luggage is bag construction. These are some questions to ask when evaluating a piece of luggage:
Is it lightweight luggage, meaning is it light when empty?
Are the wheels high quality off-road inline skate wheels?
Is the handle strong and durable?
Do the zippers stretch to allow for stuffing without busting?
Is the fabric strong enough to pass through a luggage sorter (if you have to gate check the bag) without shredding?
All three brands described here pass these tests with a resounding, "Yes!"
Packing Style
Which bag design you choose is a matter of personal style. Do you throw things in or pack neatly? If you throw things in, consider the duffle. This design is also great if you carry an oversized gear, like a camera tripod or large hiking boots. Some larger items just don't fit into compartmentalized bags.
My travel partner does something in between stuffing and cubing, which is why a wheeled bag with one zippered compartment and one main compartment works for him.
I packed neatly using packing cubes, and prefer to find something within one or two moves. So I prefer a wheeled bag with two internal zippered compartments and one main compartment.
Strategy
As you know from reading this blog I spend a lot time with my luggage. I used to buy cheap crappy luggage from discount retailers and change when they failed. But I grew tired of figuring out how to pack a new bag all the time. Plus, it's a wasteful strategy at a time when landfill space is becoming dearer.
So now I have one bag that I know how to pack to the max in my sleep, and it's perfect for everywhere I go. I spent more money up front (about $200) for much less hassle in the long run.
Best in Show
Eagle Creek
I'll admit my strong preference for Eagle Creek's construction. I've use their luggage for 4 years now exclusively. I can honestly say that it's the best luggage I've ever carried.
I also own a 25″ SwitchbackMax, but it doesn't fit in the overhead bin. So I rarely use it these days, except when I know I will have to check luggage.
Their newest bag, the Hovercraft 22″ looks very durable, especially in wet conditions, since it's made out of a hybrid neoprene-like material (http://www.eaglecreek.com/bags_luggage/wheeled_luggage/HC2-Hovercraft-Upright-22-20236/ ).
Patagonia
Patagonia is a brand worth considering seriously. Patagonia makes a well-built wheeled duffle bag that has backpack-like carrying straps–great if ever you have to bound up subway stairs (http://www.patagonia.com/web/us/product/mlc-maximum-legal-carry-on-wheelie-bag?p=49112-0-687 ). It also fits the max legal carry-on size.
I have also used Patagonia's large wheeled, duffle bag. It was shredded almost beyond recognition by the airline on my return flight home  (serious bummer at the end of my trip to Chile). Patagonia sent me a brand new bag, no hassle of any kind. It was amazing.
Tumi
Tumi's reputation as one the premier luggage companies is well earned, even if they are a bit pricey. But dropping $200 seems a bargain if you think about owning on a single piece of luggage that you will haul around the world for life. Tumi makes a lot of carry-on bags (http://intl.tumi.com/travel-and-luggage/carry-ons/ ). With so many to choose from, your personal taste and style should prevail.
But overall, their bags tend to be heavier empty than Eagle Creek or Patagonia and more business-looking. Many frequent travelers carry Tumi, a testament to its durability and classic style. But this may be the brand's single drawback: When many bags look alike, it's easy to grab the wrong bag.
Tips for Traveling with Carry On Luggage Only
I wrote a blog post with tips to go all carry-on a while back. You might find some helpful bits: http://gbjorn.wordpress.com/2009/07/27/avoid-increasing-airline-fees-tips-for-traveling-with-carry-on-luggage-only/ .
Whatever you decide, good luck! I hope you find a great bag that really works for you.